Web Design Albuquerque
Website Tour
12600 Morrow Ave NE     Albuquerque, NM  87112   webdesignalbuquerque@gmail.com
---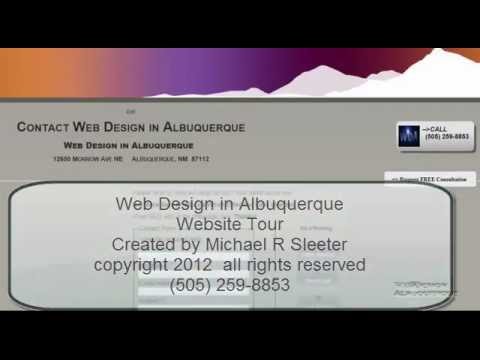 Welcome to the Web Design Albuquerque Website Video Tour
 The Web Design Albuquerque Website Video tour is a fast-paced overview of the our Website.  It is a great starting place for you to learn about the important information on our website, and a terrific example of the type of media that can be created for your website.  Please take the tour, and then proceed to Web Design Services Overview for a more leisurely 'stroll' through the website.
The Web Design Albuquerque Tour integrates original website video and original website audio into a seamless, flowing multi-media experience.  The tour has several objectives
1) Discover the best way to navigate the Web Design Albuquerque Website.  The Website was designed hierarchically and you are provided several methods for exploring or Website.  Probably the easiest
method is to to select the "next" option on the Web Design Albuquerque Navigation Buttons placed on each page near the top left, and as shown on the image to your left.  You can easily navigate the entire site just by using this method.  (Please note:  the picture of the navigation button placed on the right is the Internet Explorer 9 visual.  If the navigation button on your right does not look like the one above and you are using Internet Explorer, this is your clue that your version of Internet Explorer may be out of date!  Website navigation security critically important, and most browser upgrades center mainly around resolving new security issues.  Web Design Albuquerque is dedicated to computer security both for my clients, and those simply enjoying perusing the site.  If you have questions about how or whether to upgrade your browser, or use another browser such as Google Chrome or Mozilla Firefox, please call us, we are glad to help.)
 2)  Display Several Creative Web Design concepts.  Our Tour is designed to spark creative thinking about design possibilities for your own website(s), new or existing.  It is just a small sampling of the many web design methodologies available through combining today's cutting-edge web design tools with a creative passion..
3)  Call to Action.  The Web Design Albuquerque Website Tour is an unabashed Call To Action - We are excited to help individuals and small businesses thrive and prosper, but we can only do that if you will CALL US at (505) 259-8853 or take advantage of our user-friendly CONTACT FORM to arrange either a phone call, a web meeting, or a face-to-face meeting.  We look forward to meeting you.
---
Thank you for taking the WEB DESIGN ALBUQUERQUE TOUR!